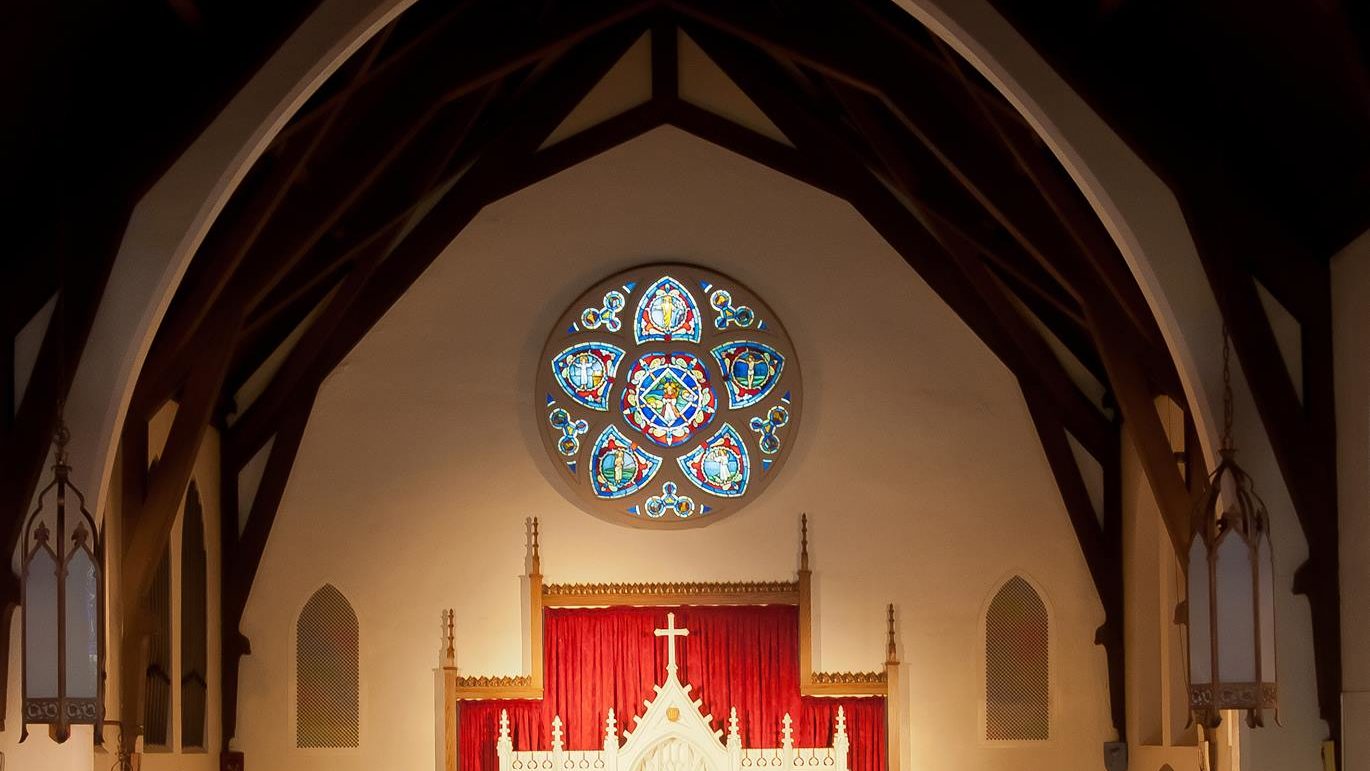 In Person Worship
Regular Sunday Schedule
Holy Eucharist
8:00 & 10:30am
Sunday School 10:30am-12:00pm
Nursery 10:15pm-12:15pm (Postponed indefinitely due to social distancing)
Our Services
The Church of the Ascension offers two services with different worship styles. The 8am service is shorter because there is no music and there are fewer people. The language is older and more poetic with "thee, thou, takest, etc." It is quieter and more intimate. There is a simple hospitality offered afterwards of usually coffee and cookies.
The 10:30 service has music, more pageantry, and is about 15 minutes longer. There is Sunday school for children during the first part of the service from September to the end of June. There is also a nursery available for infants and toddlers for the duration of the service. After the service there is usually a more elaborate hospitality time with a range of foods and refreshments.
Information For In-Person Worship
In-person services are at 8am and 10:30am in the church. Please come as you are able.
Church of the Ascension Policies Concerning COVID-19 Updated on February 20, 2022
Masks and social distancing are encouraged but not required inside the building for those fully vaccinated. Anyone who wants to wear a mask for continued protection as well as anyone unvaccinated or who has respiratory issues or concerns is highly encouraged to wear a mask.
Everyone is expected to continue washing hands thoroughly as well as sanitizing all chairs, handles, switches, and surfaces.
We continue to sanitize the building by fumigation monthly.
We will continue to offer the peace without moving from our places through a bow or gesture rather than through a hug or handshake allowing people to maintain their personal space.
We will continue to stand for communion until further notice.
No one should receive from the chalice if they are uncomfortable and/or unsafe to do so. We believe in the doctrine of concomitance which means one receives the full benefit of the sacrament whether they receive one or both forms of bread and wine.
Nursery and Sunday School
Note: For the safety of those most vulnerable, the nursery will not be active when we are observing protocols.
The Church of the Ascension is happy to offer a Nursery for babies and toddlers as well as a Children's Service, for children who aren't quite ready to join the adult celebration. Our trained nursery leaders are here for your child(ren), so you can reflect, reconnect, and recharge. In our Children's Service, kids can expect to be entertained with projects, crafts, and stories that illustrate God's love. The class also helps to prepare the children to join their parents and the greater church family during the main service. Kids start with their families and are escorted to class after the welcome message, returning during the exchange of peace.
Church of the Ascension adheres the guidelines outlined in Safeguarding God's Children, which includes more than one adult attending to children at all times. Parents are always welcome to join or observe either group at any time.
Noon Time Prayer via Conference Call
The Church of the Ascension is still coming together to meet, pray, and talk! Join Father Vincent and members of the Ascension community on a conference call every Tuesday and Friday at 12:12pm for:
Noonday Prayer (10 minutes);
A reflection from Forward Day by Day (5 minutes);
Time for us to check-in with each other (20 minutes);
Time to ask questions and exchange information (10 minutes);
Prayer for the Church of the Ascension.
Click the links to read and follow along with the prayers.
These calls will give you access to your priest in this time of uncertainty and will allow us all to continue together in prayer and worship.
We will start noonday prayer promptly at 12:12 and end just before 1pm. Please do not call in before 12:05pm. You can call in for all or part of the time.
Follow along in prayer using the Book of Common Prayer pp. 103-107 (or click the Noonday Prayer link at the top of this message).
Please join us by calling 1-425-436-6300 and use Pin 593523#. Use *6 to mute and unmute yourself when trying to talk.
Don't let this pandemic keep you away from friends and your spiritual community. We're still here – won't you join us?